GUI Design Template
Line 5:
Line 5:

[[Image:Maemo_5_GUI_0_9-thumbnail.png|Maemo 5 GUI Design template]]

[[Image:Maemo_5_GUI_0_9-thumbnail.png|Maemo 5 GUI Design template]]

-

[https://garage.maemo.org/frs/download.php/6646/Maemo_5_GUI_0_9.zip Download Maemo 5 GUI Design Template v0.9]

+
+

[https://garage.maemo.org/frs/download.php/6646/Maemo_5_GUI_0_9.zip Download Maemo 5 GUI Design Template v0.9]

+

 

+

= References =

= References =

* [https://garage.maemo.org/projects/guitemplate/ Maemo 5 GUI Template project]

* [https://garage.maemo.org/projects/guitemplate/ Maemo 5 GUI Template project]
---
Revision as of 14:54, 14 September 2009
The purpose of the Maemo 5 GUI Design template is to facilitate creation of high-fidelity image mockups. This does not replace sketching on a notebook, but rather speeds up the pixel perfecting work, when making product presentations or when pitching a product to investors.
Currently the GUI Design template is available in Photoshop format that has a fairly comprehensive library of assets – all fully editable.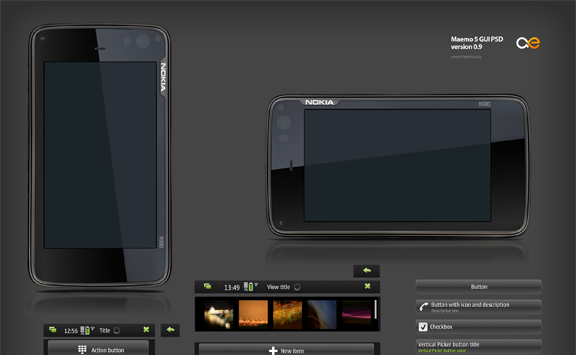 Download Maemo 5 GUI Design Template v0.9
NOTE: The unpacked Photoshop file is huge, more than 10MB in size. Make sure you have fairly recent computer and Photoshop software to be able to use it.
References