GUI Design Template
Line 2:
Line 2:

Currently the GUI Design template is available in Photoshop format that has a fairly comprehensive library of assets – all fully editable.

Currently the GUI Design template is available in Photoshop format that has a fairly comprehensive library of assets – all fully editable.

+
+

[[Image:Maemo_5_GUI_0_9-thumbnail.png|Maemo 5 GUI Design template]]

[[Image:Maemo_5_GUI_0_9-thumbnail.png|Maemo 5 GUI Design template]]
---
Revision as of 18:35, 20 September 2009
The purpose of the Maemo 5 GUI Design template is to facilitate creation of high-fidelity image mockups. This does not replace sketching on a notebook, but rather speeds up the pixel perfecting work, when making product presentations or when pitching a product to investors.
Currently the GUI Design template is available in Photoshop format that has a fairly comprehensive library of assets – all fully editable.
This document is supported by the Fremantle Master Layout Guide and Hildon 2.2 UI Style Guide for visual guidance and references, as well as by the Hildon 2.2 Widget UI Specification for interaction and technical background information.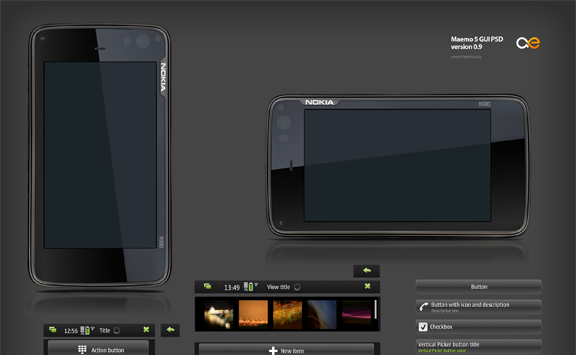 Download Maemo 5 GUI Design Template v0.9
References