Sync
This page will describe how to synchronize data on Maemo devices with other devices, services and desktop applications.
[edit]
Erminig
For synchronising one or more accounts' Google Calendars to multiple calendars on the N900, Erminig can be used.
Erminig is still under development and only available in Extras-devel.
See [this post] for a brief explanation of the naming challenge
Backup your local calendars before proceeding.
Backups of your Google Calendars can be made by Setting -> Export calendars.
When first synchronising, one should perhaps start with only the remote or the local calendar populated with events. Otherwise entries will get duplicated or might get lost. To empty the built-in calendar use Settings -> Edit Calendars, select the appropriate calendar (default calendar is called N900), Delete on the next screen. (For the "N900" calendar you have to confirm that it can not be deleted but that you wish to delete all content instead.)
NOTE: Erminig only synchronises the calendar entries and does not sync tasks (follow links from [this post]. Recently Google has announced an API.
[edit]
Configuration
First you should add all the Google Accounts you wish to sync with by:
Open Settings > Google Accounts
Add each Google account with your Google username i.e john.smith@gmail.com or john.smith@example.com if the account is a Google Apps domain.
To configure the synchronisation settings:
Click the '+' button in the toolbar to add a synchronisation between a remote calendar and a local one.
Click the individual or all sync buttons.
You can see an slightly old version of the UI, and what the buttons do here: http://imgur.com/pwbKi.png
[edit]
Sync frequency
Erminig's UI allows the specification of a single daily sync at a specified time. For more fine grained control, the command erminig -a can be used with a scheduler such as Alarmed.
[edit]
ActiveSync
If you want to sync with an Exchange server, ActiveSync (called Mail for Exchange or MfE by Nokia) can be used. You can more or less follow the instructions for S60 on Google Sync with the N900. In the Settings dialog, open "Mail for Exchange", and follow the instructions on that webpage.
MfE for Google Sync is not officially supported. It still works on some occasions but it is unreliable.
[edit]
Synchronising with Google
Although synchronising contacts with Gmail is not officially supported (this discussion has more details), it is possible, and has been reported to work for many people.
The instructions for S60 sync on Google Sync work, and give the settings you need to use for MfE on the N900.
FIXME: Needs screenshots
In the Settings application, select "Mail for Exchange".
In the Credential screen of the wizard, enter your Gmail username as both your username and email address, your Google password, and leave the Domain empty.
In Server settings, set the server to m.google.com, and leave the defaults for secure connection and port.
In the following screen you can select contacts and calendar, and this will sync one of your Google calendars (the first) and your contacts, and you can set the frequency of synchronisation.
Note: If MfE synchronisation fails, try removing all items from your N900 calendar and contacts and do a complete resync sync again. After that you can sync like normal but do not add or edit more then 5 contacts between syncs.
Note: according to the Google Calendar and Contacts Sync thread, the NuevaSync service is apparently easy to set up and use for Google Contacts and Calendar Sync, however it is no longer free.
Note: also try this link for N900 and Maemo5
[edit]
SyncML
[edit]
Bluetooth / USB (native support)
The N900 provides SyncML over Bluetooth and USB but not IP.
You can synchronize your contacts from:
Other devices (confirmed to work with most N- and E-series phones). When Contacts or Calendar application is started for the first time it automatically suggests data import.
PC Suite
iSync (for Mac). You can download iSync plug-in from Nokia's support webpage.
[edit]
HTTP support (using syncevolution)
[edit]
Installation

syncevolution itself: Syncevolution itself is a command line application which allows you to synchronize contacts and calendar entries (this includes also tasks and notes) against a SyncML server. You can install syncevolution using the application manager. Please note that the Extras-testing repository has to be enabled. If you use and test the program feel free to vote for the current version.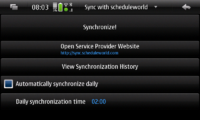 GUI for syncevolution and syncevolution itself: For maemo there is also available a smart graphical user interface called syncevolution frontend. You can install syncevolution-frontend it using the application manager. Please note that the extras-devel repository has to be enabled.
[edit]
Further information
Syncevolution (official homepage) also is available for Moblin and therefore it also will be available for MeeGo. You can report bugs (also regarding the Maemo version) in moblin's bugtracker.
[edit]
Desktop sync
[edit]
Syncing with a Mac
[edit]
Using Google (contacts and calendar)
Syncing contacts with a Mac can also be done via Google Mail. In-depth instructions can be found here. After obtaining a Gmail and Google Calendar account, you can synchronise your Mac contacts with Google by following these instructions. Then to synchronise calendar and contacts to your N900 from Google, follow the instructions in the Google sync section of this page
[edit]
Using Funambol server or other SyncML providers (contacts only)
If you are using syncevolution to synchronize your data using SyncML against a SyncML provider (as described here) you can use the Funambol desktop client for MacOS to synchronize your contacts from your Mac to the same SyncML provider.
[edit]
Syncing with a Windows Desktop
If you are using MS Outlook you can use the Funambol Outlook plugin to synchronize your data against a SyncML provider (as described here).
[edit]
Syncing with a Linux Desktop
Some users have success with SyncEvolution but some users find a BT bug that Nokia needs to fix or release information to create a workaround when trying to sync from the Linux machine to the phone.
Other option is to sync via application Sync on desktop, using Funambol,Google,Memotoo,Mobical or ScheduleWorld with built-in Mail for Exchange.
[edit]
Other Sync Solutions
[edit]
Notes / Personal Wiki (using conboy and tomboy)
Conboy is a personal notes application for Maemo which allows to sync notes versus one.ubuntu.com.
[edit]
Files (using Conduit)
Users have reported success using Conduit to sync files from their Linux machine to the N900.
[edit]
Browser history, bookmarks, passwords, history and settings (using Mozilla Firefox and Sync Plugin))
[edit]
Calendar database

The calendar database on the N900 is stored in an SQLite database.
GPE is a suite of applications that was ported to Maemo. Search for GPE in the downloads section for your version of Maemo. (You'll probably want GPE Calendar, GPE Contacts, gpesyncd to start with.) These are standalone applications, there's no integration with the Maemo address book. You'll not find data from GPE in the Mail client or Chat. It should be possible to sync GPE directly with a Funambol server using msynctool (now osynctool).
[edit]
SyncML
SyncEvolution provides support for SyncML via http. This means you can sync against services like Scheduleworld or MyFunambol on the web (more services listed here), but you can not use it to sync directly via USB or bluetooth.
The advantage of SyncEvolution is that it syncs directly to the main system database on your device, which means: phone numbers are available from the internet call application, email addresses are visible in Modest etc. Unfortunately, the latest version 0.9 is not yet available for Maemo, so you have to be content with 0.8 which lacks a graphical user interface and Google integration.
When you use SyncEvolution, you'll want a more advanced contacts application to display information like postal address or birthday. This information is synced to your device but remains invisible in the Maemo Contacts-application. Pimlico Contacts, though no longer maintained, is a working application to let you view and edit all fields. (Be warned: Pimlico contacts isn't properly hildonized and lacks a few icons. It really looks a mess, but it works.)
This page was last modified on 14 September 2011, at 14:43.
This page has been accessed 151,475 times.