Podcasts
There are several programs available to enjoy your podcasts on the go. This page is here to give an overview, as well as some nice features or shortcomings of each program.
Some programs are available via repositories - that way you can update without having do download *.deb files manually every time. Go to Repositories for Nokia N810, N800 and 770 Internet Tablets, choose your tablet's OS version - OS2006, 2007 or 2008 - and have a look at the available repositories.
[edit]
gPodder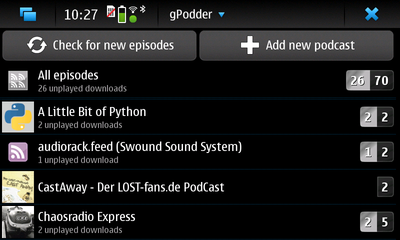 This is the program that most people seem to be using. For the manual see the gpodder wiki.
Support and discussion threads:
You can find gPodder in the Extras repository.
For Maemo 4 (N800, N810), we suggest to use Panucci as a suitable podcast player, as it supports resume play. On Maemo 5 (N900), the built-in Media Player is the suggested player, because gPodder integrates with it (including playback position tracking and resuming support).
[edit]
videocenter
It is available from the Nokia Certified repository, but can also be downloaded from the Maemo Garage:
https://garage.maemo.org/projects/videocenter/
Features:
You can choose betwen adding podcasts (called Internet videos - although audio podcasts can be added as well), Internet TV (I guess that's streaming media) and Remote video (I guess stuff your media center makes available at home).
You can add podcast feeds and the podcasts then get sorted in their respecive podcast list.
Podcasts can be browsed by list in one window with the status (downloaded or not) displayed next to the podcast item's name in the "Internet videos" view.
Double-clicking on the podcast name displays infos as the complete title, the file's URL and a descrition of the podcast item (if available).
In the "My videos" view you get a list of the files you already downloaded, odered only by "internal" and "removable" memory card.
In the "My videos" view the infos again, delete or protect files, rename them and you can move downloaded podcasts to different locations on a file-by-file basis or all of them at once. The "My videos view" also shows you how many percent of your memory card are still available/free.
You can even select whether to use the "internal" (meaning Maemo's standard) player or an external application.
Shortcomings
Sometimes videocenter crashes when adding new podcast feeds, for example when adding Netzpolitik.org TV podcast.
videocenter "thinks" it can only use video podcasts and therefore calls everything "video" - although it works with audio podcasts, as well.
[edit]
podsync
This is a very new (and still very basic) program, available from
Features
podsync has a "one window" design: You add postcasts and define (globally) how many of the newest podcasts you'd like to download when refreshing. The window displays the podcast URLs and that's it.
podsync creates playlists of ALL and only the NEW podcasts in the download directory. These can be used with your favourite video/audio player.
small, fast, easy
Shortcomings
Still at a very early stage of development.
It's very difficult to find the right files in Maemo's file manager to keep/save them, as podsync uses a not-very-distinctive-for-humans naming scheme.
This page was last modified on 20 February 2011, at 13:40.
This page has been accessed 13,752 times.