User talk:Jayford
[edit]
Test screenshots
When you hit the button in the upper left corner twice you get a bunch of icons to launch applications.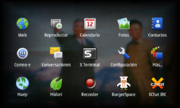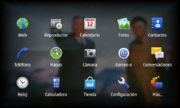 To customize your icon set, edit this file:
/etc/xdg/menus/hildon.menu

Then add the .desktop files for the applications you want, and remove (or comment out with <!-- foo -->) applications you don't want. See this directory to find out the name of your .desktop file: /usr/share/applications/hildon
Here is my hildon.menu file, as an example:
This page was last modified on 26 March 2010, at 16:54.
This page has been accessed 1,147 times.