Documentation/Maemo 5 Final SDK/Discover Maemo 5 SDK
Panorama Desktop
Four virtual desktops or home screens
Personalize each of the desktops to your content
Slide through them with the click and drag gesture of the mouse
Multi Tasking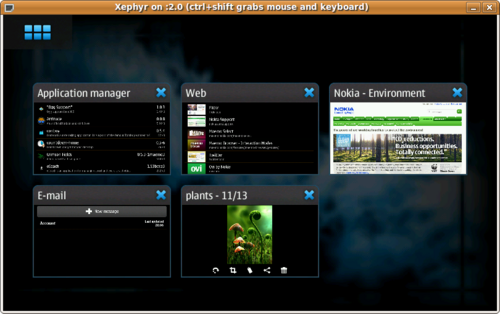 No longer view one application at a time.
Active thumbnail view of all open applications.
A button click to switch between open applications.
Home Widgets
Add cool widgets to your home
Develop new widgets
Web Browser
Full screen, 800X480 resolution
Advanced interactive mode
Recent browser history as thumbnails
Mozilla browser engine
Browser interface API (Debian Package:tablet-browser-interface)
Email
Modest Email Client
Easy setup of email accounts
Contacts
Smooth integration with VOIP and IM contacts
Address Book API (LINK)
Calendar
Manage events
Create multiple calendars
Calendar interface API (LINK)
Clock
World clock
Manage alarm events
Photos
View images
Simple edit functions
Create new sharing plugins
Sharing plugin API (LINK)
Application Manager
Manage application catalogues
Download new applications
Update or remove installed applications
Media Player
File Manager
Manage files and folders
File Management APIs (LINK)
Virtual Keyboard
Ability to use virtual finger keyboard instead of hardware keys.
Xterm