MeeGo Coding Competition 2011
[edit]
Introduction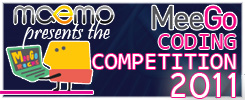 The wait is over!
We are proud to announce the MeeGo Coding Competition 2011!
As successor it will follow the good example of the community driven Maemo Coding Competition 2010. Quim Gil wrote a lot of good things about this "grass roots community success".
To make this year's competition bigger and better, we urge all MeeGo enthusiasts to organize events during the MeeGo Coding Competition 2011 in their Local MeeGo Network. We are sure that Intel and Nokia are going to assist you doing that. Please contact us to get in touch with Intel and Nokia.


[edit]
Categories
This List is still in a Draft state
There are 8 main categories for submissions:
Business & Office
Games
Desktop (Widgets)
Fun & Strange
Graphics & Multimedia
Location & Navigation
Network & Communication
System & Utilities
In addition, there is an extra category especially for those new to Maemo/MeeGo development:
[edit]
Competition Timeline
The competition for all categories other than Desktop (Widgets) ended 31 July 2011. New submissions to the Desktop (Widgets) category will be accepted until 7 August 2011 inclusive. Voting will then take place for all categories.
[edit]
How to Submit an Application
To enter, simply submit your application via the competition submission page available at http://competition.meetmeego.org/ and align it to one of the main categories[1]. You will also need to provide some details for the judging thread, including at least 2 screenshots, a brief description of your application, and an outline of what work you personally completed on it.
Authors who mark their entry as 'beginner' will also have their application automatically entered into the beginner category.
Only applications entered through the submission page will be counted as valid entries in the competition. New participants are welcome to join at any time up until the closing date.
[edit]
Prizes
Apart from the educational events and the fun at coding there is a lot more for you!
If you will be elected by the community as the main winner of one category, you will win a Nokia N9!
If you will be elected by the community as the second main winner of one category, you will win a Nokia N900!'
But even if you don't win one of the main prizes, that does not mean you get nothing! We will have cash prizes this time, too, independent of sponsorship funds! Last time the community donated extensively, and about $1000.00 came together! Will we be able to beat the record-sum this year? Your donation is just a click away!
The winning author of the beginner category will also receive a MeeGo application programming book of their choice to help develop their skills further (donated by Kojacker)[2]
[edit]
Donations for the Community Prize Fund
The following list shows all of the donations made to the community prize fund so far. If you would also like to make a donation please click the following link: Donation via PayPal. Remember to include your maemo.org username in the PayPal messaging box [3], else the donation will be marked as anonymous. There is no fixed amount - all donations are very welcome - and will be accepted from now until the closing date of the competition.

Our special thanks to the following people for their generous contributions:
| Date | Nickname | Amount (gross) in € | PayPal fee in € | Amount (net) in € |
| --- | --- | --- | --- | --- |
| 4/2/2011 | kolos | 5,00 | -0,45 | 4,55 |
| 4/3/2011 | nicolai | 10,00 | -0,54 | 9,46 |
| 4/3/2011 | kojacker | 50,00 | -1,30 | 48,70 |
| 4/4/2011 | marxian | 10,00 | -0,54 | 9,46 |
| 4/7/2011 | jukey | 15,00 | -0,64 | 14,36 |
| 4/11/2011 | eMiL | 15,00 | -0,64 | 14,36 |
| 4/14/2011 | Helmuth | 20,00 | not via PayPal | 20,00 |
| 4/15/2011 | burgwinkel | 18,00 | -1,05 | 16,95 |
| 4/15/2011 | slender | 15,00 | -0,64 | 14,36 |
| 4/17/2011 | Arrancamos | 5,00 | -0,55 | 4,45 |
| 4/17/2011 | | 5,00 | -0,45 | 4,55 |
| 4/18/2011 | | 10,00 | -0,74 | 9,26 |
| 4/19/2011 | benlau | 50,00 | -2,30 | 47,70 |
| 4/21/2011 | ZogG | 15,00 | -0,94 | 14,06 |
| 4/23/2011 | MyNokiaN900 | 30,00 | -0,92 | 29,08 |
| 4/23/2011 | geekgirl74 | 10,00 | -0,54 | 9,46 |
| 4/23/2011 | gabby131 | 20,00 | -1,13 | 18,87 |
| 4/28/2011 | jurop88 | 20,00 | -0,73 | 19,27 |
| 4/28/2011 | Creamy Goodness | 25,00 | -1,33 | 23,67 |
| 5/02/2011 | claw | 15,00 | -0,64 | 14,36 |
| 5/09/2011 | OVK | 30,00 | -0,92 | 29,08 |
| 5/11/2011 | br1zer | 10,00 | -0,54 | 9,46 |
| 5/11/2011 | tpd | 10,00 | -0,54 | 9,46 |
| 5/12/2011 | | 25,00 | -0,83 | 24,17 |
| 5/14/2011 | hassyy | 10,00 | -0,74 | 9,26 |
| 5/14/2011 | mdb666 | 30,00 | -0,92 | 29,08 |
| 6/01/2011 | toucan murphy casper27 reinob | 15,00 | -0,64 | 14,36 |
| 6/10/2011 | mece | 20,00 | -0,73 | 19,27 |
| 6/11/2011 | sony123 | 10,00 | -0,74 | 9,26 |
| 6/10/2011 | ivgalvez | 20,00 | -0,73 | 19,27 |
| 6/11/2011 | ljo | 20,00 | -0,73 | 19,27 |
| 6/12/2011 | erendorn | 20,00 | -0,73 | 19,27 |
| 6/14/2011 | Creamy Goodness | 30,00 | -1,52 | 28,48 |
| 6/20/2011 | | 10,00 | -0,54 | 9,46 |
| 6/25/2011 | | 20,00 | -0,73 | 19,27 |
| 6/27/2011 | | 20,00 | -0,73 | 19,27 |
| 7/03/2011 | rotoflex | 10,00 | -0,74 | 9,26 |
| 7/03/2011 | | 170,00 | -3,58 | 166,42 |
| 7/06/2011 | mmlado | 11,00 | -0,56 | 10,44 |
| 7/22/2011 | ysss | 100,00 | -4,25 | 95,75 |
| 9/05/2011 | reinob | 50,00 | not via PayPal | 50,00 |
| 11/02/2011 | hansaka | 0,50 | -0,37 | 0,13 |
| 11/08/2011 | | 10,00 | -0,54 | 9,46 |
| 11/10/2011 | silpol | 10,00 | -0,54 | 9,46 |
[edit]
Participants
To enter, please submit your application via the competition submission page available at http://competition.meetmeego.org/. Please note that only applications entered through the submission page will be counted as valid entries in the competition. New participants are welcome to join at any time up until the closing date.

The following list is to notify us of your intentions to enter the competition. Please fill in the table with your application details and progress so far. Beginner's should also mark a 'Y' in the beginner's column.
To ensure that the event runs properly, there are a few essential rules:
Only individuals may participate. Companies are excluded from the competition because of equity reasons.
If you have coded your app in a team and you win one of the travels to the MeeGo Conference, your team has to designate one person as the winner.
Any number of apps can be submitted and elected as winner.
Apps must be uploaded as executable including at least two screen shots and a brief description on the submissions website to take part in the election. The applications have to run on default hardware running on an official version of Maemo or MeeGo.
All applications, which are created and uploaded during the duration of the Competition will take part in the election. For existing programs, only progress which has been made during the Competition will be considered. When porting apps, only the work of porting will be considered, unless the original program is from the same programmer and was developed or extended in the Competition timeframe.
There is no legal right to win.
More details regarding the election process to follow.
[edit]
App Developer Resources
[edit]
Getting started with MeeGo application development
The MeeGo Developer subsite (http://developer.meego.com) [4] is a one-stop shop for developers who are keen to learn more about developing for MeeGo devices. You can download the MeeGo SDK from there, get information on targeting and setting up devices, and there's some tutorials to get beginner's started on their first applications.
The Getting started section [5] might be of particular interest, and includes guides such as:
MeeGo application development overview [7]
Getting started with the MeeGo v1.2 SDK for Linux [8]
Getting started with the MeeGo v1.2 SDK for Windows [9]
Create your first application: Hello World [10]
For those without MeeGo devices but would like to try it out on their N900:
Setting up the Nokia N900 for MeeGo Development [11]
[edit]
Getting started with Maemo application development
The Nokia Qt SDK is the official set of tools with everything needed to design and create applications for the N900 [12]. The development wiki is a great place to start, it contains lots of code examples and development guides. The "Windows Python and Qt in 30 mins"[13] thread is a great PyQt tutorial for beginners and will have you coding your first app in minutes, and here's a link to a tutorial from Linuxuser.co.uk[14].
The 'Developer' forum on maemo.org[15] is an excellent resource to find answers and ask questions of your own.
[edit]
Spreading the word
[edit]
Q: Which Twitter Hashtag to use for this Competition?
A: Please use #mcc2011
[edit]
Application requirements
[edit]
Q: It is obligatory to code in Qt?
A: No, it isn't, but it would make your life probably a lot easier because you will be able to reach more platforms. We encourage everyone to use Qt.
[edit]
App/Application submission process
[edit]
Q: Where to submit my application?
A: There is an Application submission page available. This will be the only valid way to participate in the competition. This list in the wiki is for information only and not valid for the competition.
[edit]
Q: Updates allowed during the competition?
I have a new app in the repository, i am considering to apply for the contest.. If i submit it now, will that prevent me to upload further versions to the repos or here? (As it's a work in progress)
A: No. you can upload updates till the end of the competition.
[edit]
Q: No Maemo/ARM platform?
There seems to be no platform for Maemo ARM. What is the right choice if I wish to submit a Maemo application?
A: Please use the MeeGo/ARM platform.
[edit]
Q: Who selects the category of the application?
Will the developers select the category when they join the competition or will someone sort it into the correct category before the voting begins?
A: They will choose the category for their app, but everyone should keep an eye on that. Before the voting process starts we'll check if every app is in a reasonable category, so that it is not possible to cheat by choosing the category with the lowest competition.
[edit]
Application proposal
If you would like to have an App but you can't code yourself, write it down here! Many devs are happy to get a new idea input.
application name
short description
features
link to similar app or screenshots
Rom Manager
A rom manager for emulators.
Choose folders for roms of different systems.

Rom audition and fixing using Romcenter databases

Rom downloading.

Integration with most popular emulators (DrNokSnes, PicoDrive, ...)

Rom Gripper for Android.
Photo Fun
An application to apply different effects to pictures.
There are two main applications to photo editing. Ansel-A is a powerful editor but lacks simple effects to be applied by noob users. submissionnt/ Classic Print is nice and easy to use but only one predefined effect exists.

An improved version of Classic Print with more predefined effects like old fashioned pictures, black and white, etc. Also the ability to add text.

There are lots of applications for this purpose in Android and iOS that apply funny or useful effects to pictures. See this.
PDF Reader
A nice, feature rich, PDF viewer.
Unlimited levels of zoom.

Friendly gestures for zooming (swipe), change page and full screen toggle (bottom right corner like MicroB).

Search and annotating capabilities.

Text reflow.

3D book page flipping effects.

You could try to port Okular from KDE with a nice UI.
LinkedGo
A LinkedIn client for Maemo and Meego
Be original, do not try to develop the nth Facebook or Twitter client.

LinkedIn is a useful social network for professional contacts.

There is an official application for Blackberry, iOS and Android.
ComicGo
A good comic viewer.
Actually there are two comic viewers, cbrPager and Comix, none of them finger friendly and not fully featured.

Friendly gestures for zooming (swipe), change page and full screen toggle (bottom right corner like MicroB).

You can try to improve one of them or port an existing one like QComicBook.
Code Editor
A text editor with syntax highlighting.
Basic text editing, with syntax highlighting, auto intend, support for at least some languages (c, c++, http, php...), possibly even a customizable compile and/or run command button
Qt Syntax highlighter example, gedit
Personal Financial Managemer
An application to keep track of an individual's finances
Multiple accounts of different types (current, savings, credit card, investment), automated standing orders, double entry, categories, import/reconcile downloaded bank statements
Review and description of similar Psion software
Call answering
An application that would pick up a call before voicemail based on predefining a number
Call is answered and given a message such as "this number has been disconnected ...no further information is available for" Perfect for that ex girlfriend or someone who has got your number and shouldn't. Saving you from annoying voicemails.
None that I know of
OCR/BCR App
Application that OCR images and convert to text. BCR app should be able save info directly from Business Card to Contacts.
Recognises Text, and input data into Contacts. Should recognise First Name, Last name, mobile, Phone, fax, email, website, company, designations and company logo.
PhotoTranslator for maemo does basic OCR. For reference, see this review for ABBYY card reader (Android)
Answering Machine
Picks up a call after fixed number of rings and performs action (play recording/record response/disconnect/send sms) based on white/blacklist
4 modes:

Disconnect call Send SMS Answering Machine Playback message Should be able to start app from command line so as to enable scheduling with alarmed.

Review of similiar Symbian app.
CoverFlow Music Player
A Music Player that supports CoverFlow display.
A Music Player that lets you browse music via the CoverFlow visual method (used in Apple iTunes software).
One of the best examples is XBMC; [In this example, XBMC uses the MediaStream skin].
Subsonic client
A Music player that either controls jukebox or/and is able to stream music from your own subsonic server
Stream, Download, Remote-control, Playlist
http://www.subsonic.org/pages/apps.jsp - http://www.youtube.com/watch?v=EBDrdWxd95k - Bit like Knots2
Personal Diary/Journal
An app to create daily diary entries
Password Protection, File attachment, HTML/TEXT Export/Import
Personal Diary Pro -Palm OS

RetroActive -WM6

Ultimate Scanner
N900 can be used as a scanner which has most of the features that a normal scanner has(not like FrontView app available right now).

(Question to the author: What does that "not like" mean ?!)

scan document contents by moving the N900 on a document, save as jpg or pdf
none that i know about
FourSquare Client
FourSquare is a Social Media website
It allows users to "CheckIn" to venues leaving tips for other users.CheckIn's are validated by Geo-Location, which is an essential element of any app.If the user is not deemed to be near the venue, the "CheckIn" will be disallowed
There is 1 Current App for the N900 called Barriosquare[[16]]

However this uses FourSquare's APIv1 which will no longer be supported from August 2011.

All new FourSquare apps need to be written with FourSquare's APIv2 Documentation here: [17]

N900 Desktop Themer
An app to export our desktop arrangements to a file so that it can be reimported by us or other later
The 'themes' supported by maemo does not include the desktop. As you can see in this thread, lots of people have brilliant ideas in customizing their desktops. Now if these arrangements could be exported as a file that anybody an apply on their system...
This is a maemo5 specific case.
3D Racing Game
Small 3D racing game with cars or hover crafts or anything that drive only horizontal (no 3d spaceship game)
Doesn't need super graphics. Doesn't need many tracks/cars, only fun is needed. Gamegripper support (changing keys) would be good. If the player can shoot at something it will double the fun. A port of Torus Trooper would be the perfect match. ;)
That game is very simple but makes lots of fun: Torus Trooper
Tower Defense
A adapted Tower Defense game
Something like the free Flash Game "Desktop Tower Defense" would be really great
Desktop Tower Defense
Hildon UI for UAE4All Maemo edition
UAE4All is a well functioning Amiga500 emulator ported by Smoku to Maemo5. It needs a new UI for being user friendly.
Hildonisation of current UI. Possibility to change keys. Easy way to switch between keyboard/mouse/joystic modes, preferably on touchscreen during gameplay.
Link to TMO thread of UAE4All: http://talk.maemo.org/showthread.php?t=50040
Calendar item privatizer
N900 default calendar does not support private items. These are useful for people that sync the calendar to a public/shared calendar database.
N900 calendar database has a slot for showing if the calendar item is public/private, there just is no way to change this value in N900 (this can be checked for example by syncing a "private" meeting from Outlook and looking at the calendar database). So either a separate application or an automatic watch daemon is needed for marking an appointment private (might be doable by making a separete calendar (inside N900 calendar app) out of which all meetings are changed to "private" and copied to default syncable calendar.
This case is N900/Maemo5 default calendar specific.
Neverball/NeverPutt
A port or a game similar to neverball/neverputt
accelerometer supported tilting universe for neverball and touch controls for neverputt for the n900.
http://neverball.org/
Tumblr
Tumblr client and uploader
Edit followers list, view dashboard,update and publish post and upload media files.
Tumbly on Symbian
SleepAnalyser
An app that records your movement during your sleep and wake you up in the best moment.
Being able to chose alarm time, song, lucid sleep options and all the other futures from n900.
http://maemo.org/downloads/product/Maemo5/sleepanalyser/
Catorise
App that removes all the mess from the desktop, and sort the programs into groups.
Being able to manually group icons in the way I want, like it was in n900.
http://maemo.org/downloads/product/Maemo5/catorise/
BFstats
App to display current achievements on Battlefield Games (BF3 mainly)
Be able to view and compare stats between players, show high scores etc. (would be nice if worked on N900 too?)
Source:- http://bf3stats.com
[edit]
Discussion
Please participate in the discussion at http://talk.maemo.org/showthread.php?t=71561
[edit]
Resources
[edit]
Contact
Ready? Grab your PC, start to hack and show us your app!
You still have questions? Contact us!
[edit]
Events
The MeeGo Coding Competition is not an event restricted to one city or country! Everyone can and should participate! Local MeeGo Events and Intel AppLabs will take place in different cities and countries.
[edit]
Local MeeGo Network Berlin
The Local MeeGo Network Berlin has planned the following events using the name "MeeGo Freeday". The events in Berlin will be streamed live.
[edit]
Intel AppLab 2011-04-29
On 29 April 2011, we bring you the Intel AppLab to Berlin (of course also in the c-base)! During the AppLab coding examples are shown and you will submit your app to the Intel AppUp store. At previous AppLabs developers got MeeGo hardware to take home. This time? Come and see for yourself!
[edit]
Streaming
The AppLab will be streamed live in HD quality. The language is English. The stream will be available at the following link. http://c-base.org
[edit]
Previous Events
You can watch the recorded videos of these events here.
This page was last modified on 26 January 2014, at 22:05.
This page has been accessed 344,139 times.